Discover your English level and get your English certificate
If you don't know your English level, test your English free and discover your English level. Thus, receive a personalized online English certificate, which you can easily add to your CV or LinkedIn profile. Certify your English level!
Take the English test online anytime, anywhere

Find out your English level fast & accurate
Get your English certificate immediately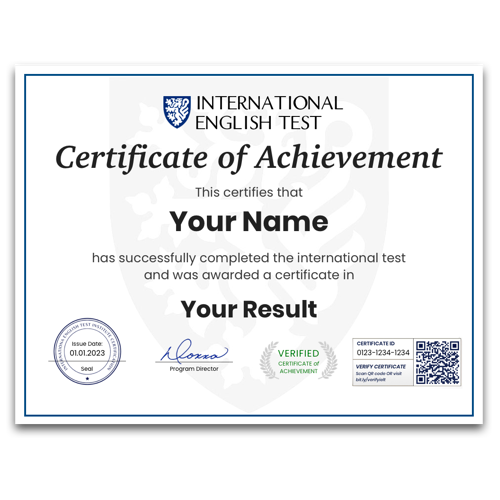 Get an internationally recognized English proficiency certificate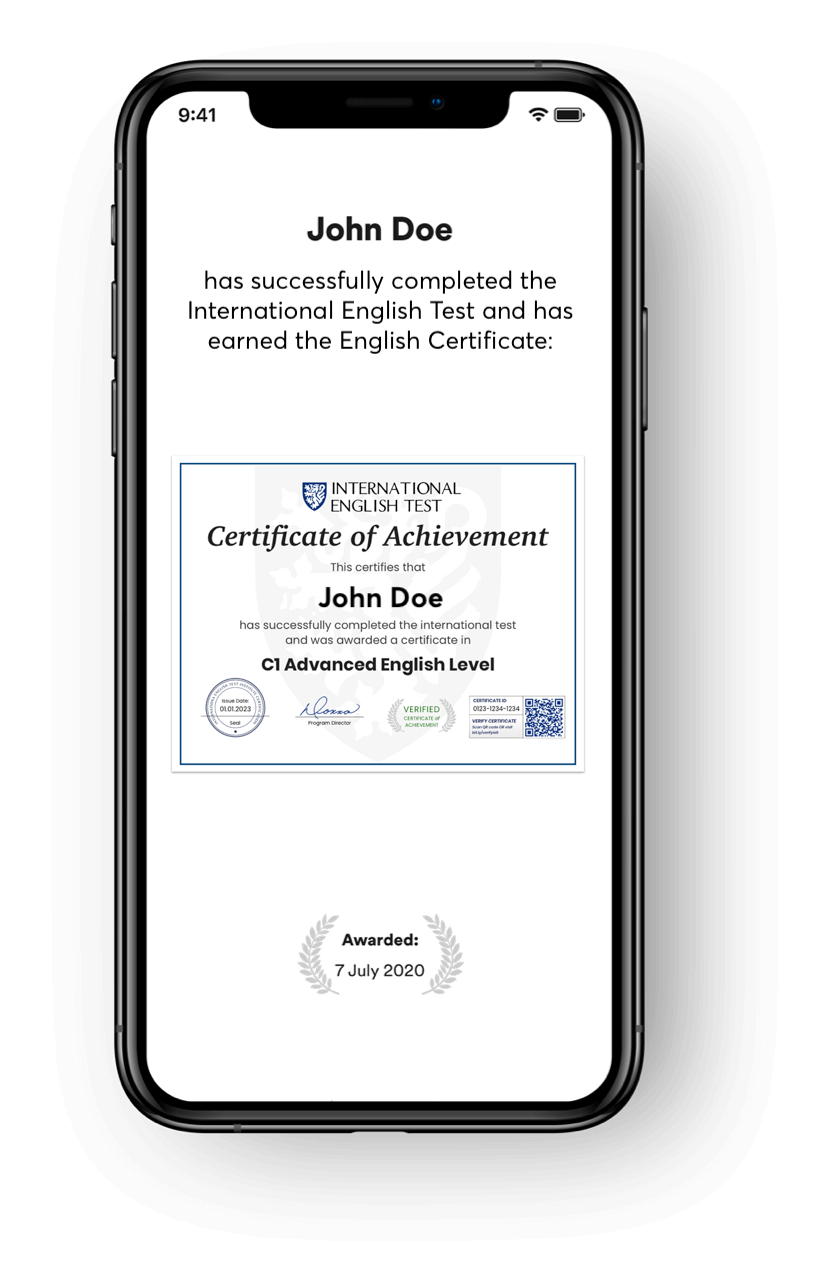 Get a personalized English certificate URL
Available for PDF download (view sample)
Easily add your certificate to LinkedIn Profile
Results aligned with CEFR levels
Affordable
Benefits of English Language Certificate
Irrespective of your current English proficiency, you have the opportunity to take an examination and obtain an authorized certification. These internationally recognized English language certificates hold prestige and are highly regarded by institutions, companies, and universities due to their rigorous assessment standards.
In addition to the English certificates offered by reputable institutions such as Cambridge and the British Council, our digital English academy, ABA English, provides its own certificate that can be utilized to validate your language proficiency.
Here are some advantages of possessing an official English certificate:
Enhance your employment prospects:
An English certificate verifies that you possess the required level of proficiency expected by companies, thereby enabling you to effectively use the language in your professional environment.
Fulfill university admission requirements:
Many universities abroad and even local institutions often require English certificates as a prerequisite for admission or completion of studies.
Obtain work or residence visas:
English-speaking countries often demand English certificates as a requirement for applying for work or residence visas.
Stay motivated and showcase your current proficiency:
Obtaining an official English certificate serves as an excellent incentive to consistently study the language while demonstrating your current level of knowledge.
English certificate authorization
International English Language Test capability authentication is created in pdf design after each fruitful fulfillment of the English test given by International English Language Test . It is presented in two forms:
a) Standard-gave on the web "with no guarantees", without the invigilation or delegated by the association overseeing the evaluation.
b) Verified-administered and confirmed straight by International English Language Test
The English certificate affirms the effectively finished English test at a specific CEFR level. It is given by International English Language Test, a worldwide supplier of English tests for organizations, schools and people and an institutional partner of the Association of English Language in Europe.
The singular test-takers or the test overseers can download the recognition in pdf design from their International English Language Test account and connect it to their request for employment or use it for correspondence with your HR division, selection representatives or school confirmation officials. International English Language Test can likewise send the printed copy of the English declaration by post.
The language recognition design portrayed on this page is being used since January 2015. You can track down the correlation with the recently utilized International English Language Test declarations in our blog entry.
English Certificate incorporates:
Name of Examinee
Kind of the language test the Core test (open abilities) or the Complete test (both responsive and useful abilities)
(Discretionary) Picture of the test-taker-just for the Verified tests taken in the delegated web-based climate with online invigilation and with the character confirmed by International English Language Test.
English CEFR Proficiency Level (A1, A2, B1, B2, C1 or C2) and level depiction
Fractional outcome (beneath the level, meets the level, over the level) for each open ability Grammar/Use of English, Reading and Listening perception
(Discretionary) Speaking&Writing result – just for the Complete test.
Test ID-exceptional reference number of your English accreditation test. In the event that you have any inquiries in regards to the outcomes or English tests, you can involve this number as a kind of perspective for the correspondence with International English Language Test. The legitimacy of the endorsement can be likewise minded our site International English Language Test utilizing the test-taker name and the Test ID number or utilizing the QR code.
(Discretionary) Provided through The association or foundation regulating the test. In the event that not recorded, the test was given straightforwardly through International English Language Test.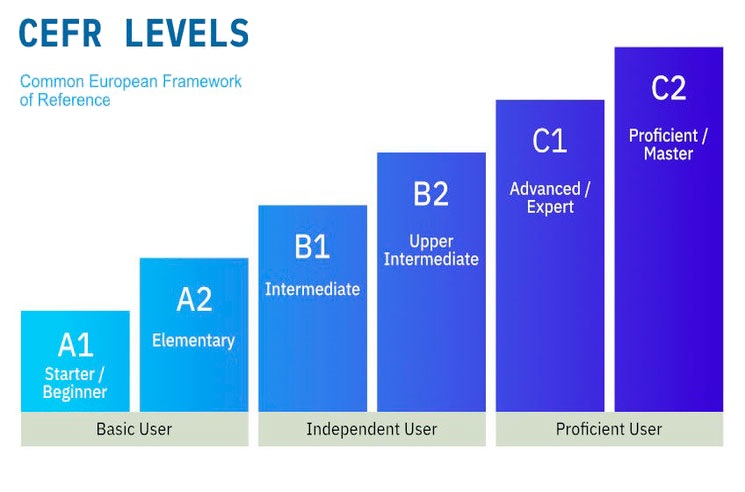 CEFR Certificate
CEFR stands for the Common European Framework of Reference for Languages. It is a widely recognized framework used to describe the proficiency levels of language learners in different languages.
A CEFR certificate is an official document that indicates a person's language proficiency level according to the Common European Framework of Reference.
The CEFR divides language proficiency into six main levels, from A1 (beginner) to C2 (proficient).
A1 – Beginner

A2 – Elementary

B1 – Intermediate

B2 – Upper-Indermediate

C1 – Advanced

C2 – Proficient
CEFR certificates are commonly used for language learners applying for jobs, educational programs, or visa applications, and they serve as a recognized and standardized way to showcase one's language abilities.
The Importance of English Level Certificate
Obtaining an English level certificate holds significant importance in today's globalized world. These certificates serve as tangible evidence of one's language proficiency and can greatly impact various aspects of life.
Firstly, an English level certificate enhances job opportunities by confirming that an individual possesses the necessary language skills required by companies in today's international work environment.

It provides employers with assurance that the candidate can effectively communicate, collaborate, and contribute in English.

Additionally, many universities and educational institutions worldwide require English level certificates as a prerequisite for admission, ensuring that students have the language competency to succeed in their studies.

Moreover, these certificates are often necessary for applying for work or residence visas in English-speaking countries, demonstrating an individual's ability to integrate and function in a new linguistic and cultural environment.
Overall, an English level certificate is a valuable asset that opens doors to better employment prospects, educational opportunities, and global mobility.
What is English certificate?
An English certificate is an official document that confirms an individual's proficiency in the English language, obtained through standardized assessments. It serves as proof of language skills and is recognized internationally for various purposes such as employment, education, and visa applications. You can get an English certificate from internationalenglishtest.com.
How do I get an English certificate?
No matter your current English proficiency level, you have the opportunity to undergo an examination (internationalenglishtest.com) and obtain an authorized certificate. These official English language certificates are globally acknowledged by institutions, companies, and universities due to their esteemed reputation and rigorous assessment standards.
Which English certificate is the best for jobs?
IET (International English Test)(internationalenglishtest.com), TOEFL (Test of English as a Foreign Language), TOEIC (Test of English for International Communication), BEC (Business English Certificate), IELTS (International English Language Testing System), Linguaskill, Cambridge English Qualifications are best English Certificates for jobs.
What English certificate is the best?
TOEFL and IELTS is a widely recognized English language test globally. International English Test (internationalenglishtest.com) is also acknowledged as evidence of language proficiency for employment, education and specific purposes.
What are the most important English certificates?
TOEFL, IELTS, IET (internationalenglishtest.com), TOEIC, BULATS, PTE Academic are widely accepted English language certificate programs around the world, especially for those aiming to use their English language certification to study at a foreign university.
Why is an English certificate important?
An English certificate is crucial as it serves as tangible proof of your language skills. It enhances job opportunities, aids in university admissions, and may be required for visa applications.
Get your first certificate in english
Identify your level with our free English placement test